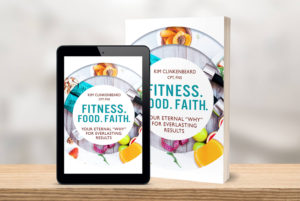 FITNESS. FOOD. FAITH.



Your Eternal "Why" for Everlasting Results
By Kim Clinkenbeard
This is not another self-help, weight loss, quick fix, or "my way is the best way" book.
In this book, I will take you on a journey through everything I have learned over the past 26 years – my mistakes, successes, failures, and struggles – which have all lead me to discover the true meaning of health, how to get lifelong results, …
…and MY SECRET to EVERLASTING RESULTS
which has NOTHING to do with FOOD or EXERCISE!